Fear not! When teething begins,Orajel™ Kids Teething Gels are here for you and your child.

This article will explain what teething gel really is and help debunk some of the conflicting information around teething gel for babies. Read on to learn about some tips for teething and how Orajel™ Kids Teething Gels without benzocaine can be used during the day or night for infant teething relief.
How Do I Know if My Infant is Teething?
The signs and symptoms that your infant may be teething include a mild fever—less than 102° F—as well as runny nose, increased drooling or decreased appetite. You might also see them putting their fingers in their mouth (or other items!) since biting down or pressure on the gum can help the discomfort. Teething can begin as early as 3 months, and teeth may come through the gums when your baby is about 6 months old.
Teething is a rite of passage and an important milestone for you and your child. But when your baby has just started sleeping through the night and then they start waking up with uncomfortable teething pain, you need solutions to help them feel better fast – so you can get your rest, too!
What is Teething Gel for Babies?
Infant teething gels are drug-free gels applied to an infant's gums to provide an instant cooling sensation that helps you calm, relax, and soothe your teething baby. Some teething gels for babies are applied with a brush or applicator, while others you gently massage on your baby's gums with your finger.
Aside from the different applications, Orajel™ Teething Gels also come in different formats! Each gel is benzocaine-free and made without any artificial colors:
Teething gels for babies provide a cooling sensation that can help soothe your infant's gums, giving both you and your baby a break from teething discomfort.
Why Choose an Infant Teething Gel to Help with Teething Pain?
Teething gels can help soothe your infant when they feel irritated by teething!* You might feel much more comfortable using a teething gel than picking up a teething ring off the floor and giving it to your toddler to gnaw on. Who knows where that has been? Plus, they are convenient, easy to stash in your purse, pocket or diaper bag. Some teething gels, such as Orajel™ Baby Daytime Cooling Swabs for Teething have single-use, sanitary swabs so you know you have a clean surface before it goes in your baby's mouth.
Teething biscuits are also available when teething discomfort arises. But, imagine all the food scraps on the floor from giving your baby solid foods. Do you really want to add to that mess by giving your kiddo a teething biscuit they will chew into a brown pulp or fling the sticky stub onto the carpet? It may seem cute in the moment! But the clean-up process? Not as much. Teething gels do not make the same kind of mess but can still help distract your infant from teething pain - instantly.
There's a chance you or your partner have heard about infant teething gels but are having reservations about using it with your baby. This is where it's important to note the difference between drug-free teething gels for kids and those with benzocaine that are strictly for adults.
*Orajel™ Baby Teething Gels can be applied to affected areas up to 4 times daily or as directed by a physician or healthcare provider.
Do Orajel™ Baby Teething Gels Have Benzocaine?
Orajel™ Kids Teething Gels do not contain any benzocaine and are the #1 pediatrician recommended teething brand†. Not only that, but they are free of artificial colors, menthol, gluten and sodium lauryl sulfate!
The U.S. Food & Drug Administration (FDA) ruled in 2018 that over-the-counter products with benzocaine pose "serious risks" to infants and children. Orajel™ Baby Teething Gels are completely drug-free, without benzocaine. Do not use Orajel™ products intended for adults on children under 12.
Teething can be stressful for you and your child. The smallest things you do to limit that stress and make your child feel more relaxed can make a world of difference! Reach for Orajel™ Teething Gels to help soothe your infants and toddlers so you can get back to making memories with your kiddo!
†Among those who recommend a brand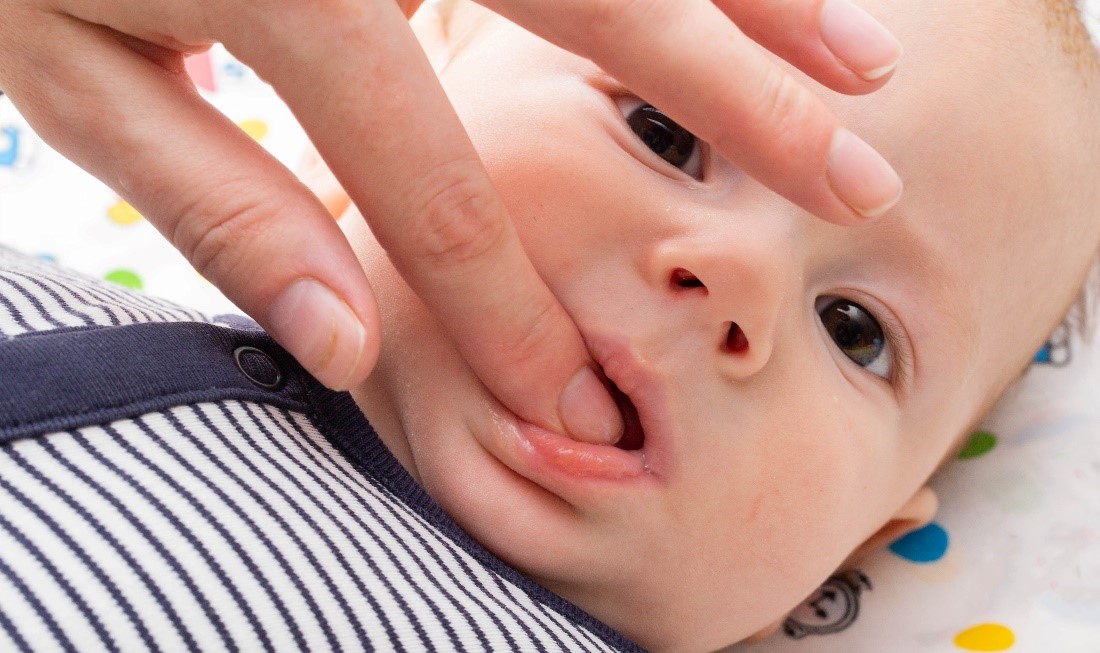 Tips for Using Infant Teething Gels to Help with Teething Relief
If you decide to use a teething gel, you want to make sure you're using it properly and in a way that will help your baby feel comfortable! Follow some of these tips for using teething gel for kids to help bring that smile back to the little apple of your eye:
1. Follow the Directions on the Package
Wash your hands before opening the package. Cut open the tip of the tube on the score mark and inspect the tube to make sure it's flowing properly. If you're using Orajel™ Baby Daytime Cooling Swabs, bend and snap open the swab tip at the colored rings. Throw away the broken off end before use.
2. Start with a Small Amount
Your infant might rebel against you trying to open up their mouth or address their gums. They also may feel especially sensitive during the application process. For those reasons, you should start with a pea-sized amount of gel during the first use.
Consider using swabs so it's easier to reach all areas of the mouth and you do not have to open your baby's mouth as wide.Orajel™ Baby Daytime Cooling Swabs are pre-loaded with the appropriate amount of teething gel and are single use for sanitary application.
3. Offer a Distraction
Infants marvel at the smallest things. Your daily game of peek-a-boo has probably taught you as much! You might consider setting up below or next to the baby mobile in their room, or a fan somewhere in their house.
You can also use the teething gel application process as an opportunity to connect with your baby! Make funny faces at them or sing them a lullaby. Perhaps bring your infant up to the mirror so they can gawk at their own reflection. If your partner is with you, you might ask them to read them a book.
Whatever you decide, try making the process fun for everyone involved and turn those tears into snuggles and a sense of calm!
4. Rub Gently Along the Gums
Gently begin to rub the teething gel along the upper and lower gumlines with your finger, swab or applicator, as directed on the package! If your baby gets fussy, give them time to adjust to the cooling sensation before proceeding further.
How Often Should You Use Teething Gel?
You can apply your chosen teething gel to the affected area(s) up to 4 times daily or as recommended by your physician or healthcare provider.
On a given day, your infant might not feel any pain. Perhaps they're all smiles and showcasing their little chompers and sweet dimples for Mom and Dad. Other days might bring about more discomfort. Either way, stock up on Orajel™ Teething Gels so you're extra prepared and ready to turn the fussing back to grins and giggles!
How Long Does Teething Last?
Contrary to popular belief, initial teething can last until children are 3 years old. Your toddler's baby teeth (the ones that eventually fall out and are replaced) may take longer to grow in, which could result in teething pain even when you think they've outgrown that stage.
So, if your typically cheery 2-year-old suddenly starts experiencing symptoms again, they may still be teething. Break out the teething gel and follow the steps above so your toddler can get back to their toy truck or teatime with their favorite dolls!
Even if your toddler isn't teething, you can still clean their teeth and gums and introduce some fun character connections! Orajel™ Baby Tooth & Gum Cleansers (with a Finger Brush) are fluoride-free, have natural watermelon or fruity flavors and come in Elmo and Cocomelon themes!
Orajel™ Teething Gels Bring You and Your Infant Much-Needed Relief
Raising an infant can be one of the greatest joys in the world. It can also be exhausting. Naturally, you don't want to spend time worrying about whether the products you buy for your baby could have a negative impact on their health. Rock those fears to sleep and choose Orajel™ Kids Teething Gels, which are drug-free and come in both daytime and nighttime formulas!